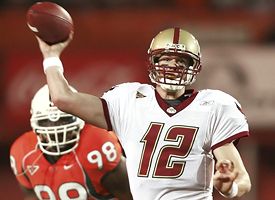 This game is going to be big. If we can win this, we are officially going to be in the driver's seat (with Clemson riding in the side car) of the ACC race. I would really like to see us go down there and win with our stout run defense and strong passing play. That being said, GaTech's blitz is hell, it tore apart an, albiet young and inexperienced, Notre Dame offense by keeping the QB Trio on the move. Matt Ryan is usually very good under pressure, but that is also because he doesn't face that much presure, since Oline U is pretty strong.
When BC has the ball:
Expect to see Matty Ice having to move a bit, and our running game having to show up pretty strong again. The GaTech Defense has great pressure, but has its weaknesses too. Expect to see Logan modify his run-n-gun offense to bit a bit quicker and shorter for this game (like against NC State) and really getting the ball either out quickly or to LV/AC. The GaTech secondary is not what it could be, and you will see Matty Ice tossing some great passes to a variety of receivers.
When GaTech has the ball:
Geshard Choice destroyed Notre Dame and Samford on the ground, but don't expect to see those kind of gaudy numbers against our stingy run defense. Also look for Taylor Bennett to have a hard time getting the ball to his receivers with Jamie Silva and DeJaun Tribble roaming the backfield, there WILL be a lot of turnovers on this side. That being said, BC gave up a lot of yards in the air this past weekend, look for GaTech to attempt to capitalize on that and throwing the ball significantly.
The Breakdown:
This BC team is the cream of the ACC crop, GaTech has played two out of conference games against weak opponents, and BC has been fired up for two Conference games already. I think you will see GaTech score some points against the defense in the air, but also give up enough turnovers to let Matt Ryan and the BC offense break their defense down and win this game. This will be a lower scoring game than the previous two for BC, but they will pull it out with a 24-14 victory in Atlanta.