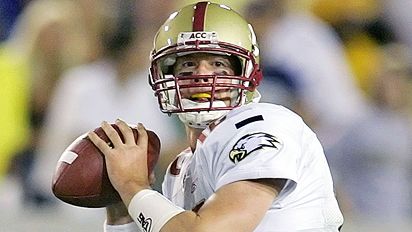 I gotta tell you, I feel so good today, so very good. Our team was fantastic this weekend (review still pending, I'll get it done today) and the talk around the nation this morning is even better. Take the following quotations:
CollegeFootballNews: BC made its official statement this week that it's the class of the ACC, and a legitimate player in the national title race, with a dominant win over Georgia Tech.
ESPN: No Boston College player has benefited more from the coaching change than senior quarterback Matt Ryan. Jagodzinski hired former East Carolina coach Steve Logan as his offensive coordinator and together they've opened up the passing game.
"I think success is harder to handle than failure," Jagodzinski said. "You start believing what people are saying. That will be talked about a lot."
CFN: FedEx Orange Bowl
Jan. 3 / 8 p.m. Miami, Fla. FOX
*BCS vs. BCS (ACC Champion, if available)
Projection: Boston College vs. West Virginia
Sporting News: The reason that Boston College QB Matt Ryan has taken a huge step this fall: his freedom within the offense. Under former coach Tom O'Brien, the plays were scripted and there were few, if any, audibles. Jeff Jagodzinski and his staff have given Ryan complete autonomy, and he can change plays at the line of scrimmage at any point during presnap reads. Plus, as well as Ryan has played, things should be even better. BC coaches have counted more than 10 drops from receivers this season, including three in last week's win over Georgia Tech -- when Ryan played flawlessly against Tech coordinator Jon Tenuta's aggressive, unorthodox blitzing schemes.
CFN: So, if you're Tom O'Brien, how do you feel this morning? You finally get your first win…over a 1AA Wofford. Great, huh? Well, you still don't know if your team can beat a 1A team. You've lost your star RB Toney Baker for the year. Then to make matters worse, you're looking straight up at your old school Boston College in the ACC Atlantic Division standings (a team that beat yours 37-17 last week). You left a school where you must have felt you couldn't take them to the next level for a mid-level ACC school on the downswing. Meanwhile, Boston College is laying waste to ACC schools one week after the next. No team in the nation had three conference games to start the year, yet BC took care of business, convincingly. They've beaten last year's champs (Wake), O'Brien's new team (NC State) and a solid Georgia Tech squad by a combined 99-55 and should be 7-0 going into the Murderer's Row at the back end of the schedule. However, many thought that the Eagles wouldn't survive the first quarter of their schedule, much less flourish. Like the coach who left for Raleigh.

What does all this mean to me?