Some of you know how Dave and I did things around here when we started blogging in 2006, but just to give a brief reminder, we kinda play good cop/bad cop, and usually thats not too far of a stretch since I tend to be of the "we suck" caste of fans and Dave tends to be "rose-colored glasses". We are going to start this season with a little preview of the upcoming year, and then will do Heigh side and Low side (see what we did there?) for each week as it comes. Without futher ado: the Low-lights.
I want to break down our potential first by going through the team in general, the coaching, and then the opponents.
TEAM:
Offense - We have some potential here with some young, exciting receivers and some seriously talented running backs, unfortunately the receivers were under-used last season and the running backs are both hurt. This leaves us with our "next best thing" in Chase Retting. He had moments of greatness last season, but to me it was more of a case that he looks great compared to Shinskie and Marscovetta who both were atrocious. Can Rettig manage this offense and bring out the potential in the receivers? Can he keep his head on his shoulders while facing some tough competition? I have my doubts.
Defense - We have always had (under Spaz) powerful defenses, specifically against the run. Last season we were among the best in the nation against the run, unfortunately we had miserable pass defense and our opponents exploited this every single game. This year we are looking at a defense that has lost several key players both on the line and in the backfield. We do have wunderkind Luke Kuechly back to be everywhere at every time, but will it be enough, can our secondary step up and keep teams from bombing us deep and forcing our offense to out gun them? Will our run defense be as good as last season?
COACHING:
I want to start with the biggest change. We got rid of Rip-Van-Tranquil and his sleepy hollow offense of run-run-get sacked. Kevin Rogers steps in and is forced to totally overhaul a stagnant offense. In looking at his history, there has not been an amazing amount of success, especially considering his last Collegiate OC job was at Notre Dame during the abysmal years of 1999-2001. That being said, a trained monkey will be better than Tranq.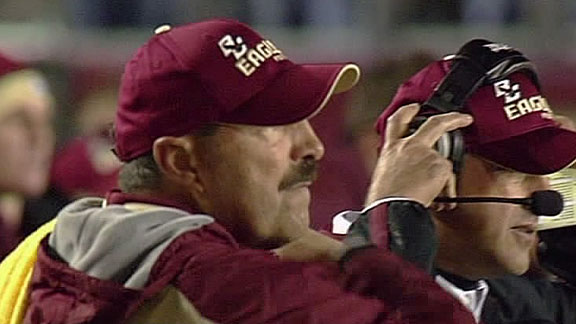 Spaziani is a whole 'nother topic. I have had very little faith in his abilities as a head coach since the start, and this has only gotten worse. Spaziani seems to be incapable of "getting the team up" for big games, and always capable of dropping the ball on an easy game (somewhat in the vain of the TOB WTF games). I hope that much of this was a result of his partner is nap-time Gary Tranquil, and we will see another side of the team this year, but I don't think this is likely. After this season, we should see the water under his seat start to get real hot, especially from guys like myself that were strong supporters of Jags and leaders of the FireTOB movement.
OPPONENTS:
I wont go game by game here since our friend Eagle in Atlanta already
got the low-lights covered
. But in general I see us having serious challenges winning more than one or two games after week 5. Our chances against teams like Maryland and Clemson rely heavily on how our team "warms up" during the first 5 (which outside of UCF and Northwestern) should be easy wins. If I had to put a number on our overall W-L for the season, I would say 6-6.