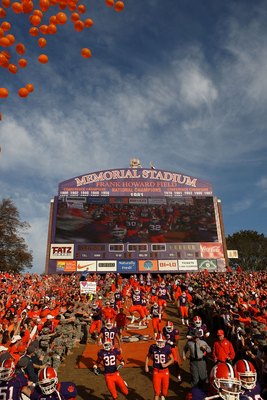 Over the years, I have defended the BCS many, many times. I find it really enjoyable that week one of the season really can make or break a team's chances, and that out of conference games are high-risk, high-reward for teams going into conference slates. You know, except Boise State, a team whom I really, really like to troll for their crappy schedule.
Right now, we actually have one hell of a logjam up top in the various polls, and the next two months of the season are going to be an awesome roshambo of do or die football. Now, we are still two weeks out from the first official BCS poll (which will come in mid-October), but reading the tea-leaves, it isn't crazy to believe that - if all teams hold serve over the next few weeks - the rankings won't be too far off from where the USA Today poll currently stands.
The last few years have given us the inevitable undefeated SEC champion as one of the contenders in the BCS National Championship game. There's just as good a chance that it happens again this year, but the challenger may be cut from a different conference cloth than in years past. Believe it or not, Clemson may be in the driver's seat to get to New Orleans in January (you know, assuming we don't knock them off this weekend #LaughingAndCrying).
Here's a conference breakdown of undefeated teams in the top #25 (with Coaches Poll rankings, since those factor in to BCS ranks):
Big 12: #1 Oklahoma 4-0; #7 Oklahoma State 4-0; #10 Texas 4-0; #21 Kansas State 4-0
SEC: #2 LSU 5-0; #3 Alabama 5-0;
Pac-12: #4 Stanford 4-0
B1G: #5 Wisconsin 5-0; #11 Michigan 5-0; #16 Illinois 5-0;
[I Forget Which Conference This Week]: #6 Boise State 4-0
ACC: #8 Clemson 5-0; #13 Georgia Tech 5-0
At this point of the season, there are so many new and creative ways each of these schools could lose. LSU and 'Bama match up on November 5th, and only one will get to the SEC title game to earn another valuable win over whomever the SEC East can offer up - which of course is always as good a team that really could shock either the Tigers or the Tide. SOklahoma has the Red River Shootout on the schedule, and the Sooners have to go to Stillwater that last weekend as the de facto Big 12 title match.
That's not the only factor for the top two spots as strength of schedule comes into play. Wisconsin's path may be too easy given that they already have their signature win of the season over Nebraska and the Badgers miss Michigan in the regular season since they are a part of separate divisions* (plus, travelling to Illinois is really not as bad as it seems since the Illini have Arizona State and Northwestern as its real wins). Even facing the Wolverines in the first ever B1G title game may not be enough. Stanford faces Oregon at home in early November, but they will likely be so untested in the rest of their Pac-12 state, the case could certainly be made that they'll stall out at #5 - without the chance of a title game rematch.
*
I did have to look up the divisions for the B1G Ten. We always do.
Clemson, a nation hoping for surprising BCSNC competitors turns its lonely eyes to you. Three touchdown favorites against our Eagles this weekend, an honor earned not just because BC is horrible, but also because of back-to-back-to-back wins against Auburn, Florida State and Virginia Tech (the latter in a rain-soaked Blacksburg). Outside of the late October trip to Atlanta and the Palmetto State Showdown with USCe, the Tigers won't really be tested until the ACCCG and a likely rematch with 19-time-defending-ACC-champion VaTech.
With all those ranked teams - many of whom have seen top ten action already this season - if they go undefeated, you'd have to imagine them no worse than third behind the winner of LSU/Bama and Wisconsin, but of all these teams, they may have the best road from here on out. The biggest test left is likely the team they already beat by 20 points on the road if they can avoid a trap from the Yellow Jackets.
New Orleans may need to prepare for an infusion of $2 bills and IPTAY shirts.
Is this post an elaborate jinx on the Tigers? You'll never know. But all I know is we have two really exciting months of football ahead of us, across every conference, every corner of the country.