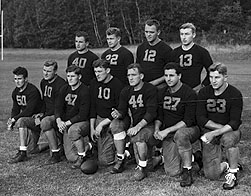 "The greatest game easily, of course, was the Georgetown-Boston College game. No less an authority than Grantland Rice called it the Greatest Game Ever Played and the Biggest Up-set, - but why go on."
~Remarks of Senator John F. Kennedy at Boston College, Chestnut Hill, Massachusetts, February 1, 1953
In honor of Fenway's 100, just want to remind all of our favorite team of destiny of all time.